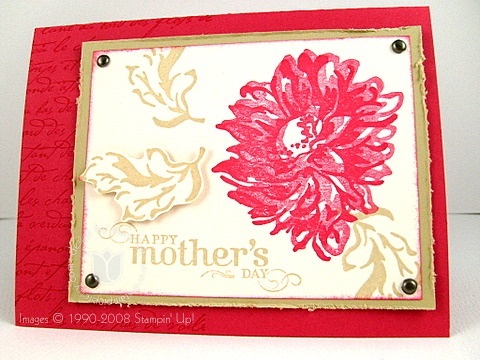 Wow!  Stampin' Up! has launched two new sales starting May 1 and continuing through May 31.  First up, "Get On Board With Chip Board."  Spend $35 on Stampin' Up! products and get 25 percent off any On Board items from the Spring-Summer Collection.  No limit on how many chipboard products you can buy.  Check it out on pp. 178-179 of the catalog.    Get 3-D fast and easy.
Next, have you ever admired Stampin' Up!'s fabulous 12 x 18" cutting mat (p. 184)?  I couldn't live without this no slip wonder, perfect for precise cutting.  Purchase the mat in May ($15.95 U.S.) and get the hobby blade and 5 refills free.  Sharp.
So does this card offer a little deja vous?  It's inspired by page 90 of the Stampin' Up! Spring Summer Catalog.  It was one of the reasons I purchased this set (but have found so many additional ways to use it).  I want to give my Pretty Peony set to my sister (she adores it) so I stamped a few last chance cards before it finds a new home.
I started with a Ruby Red card base and stamped a little less than half with a French Script Background stamp (Ruby Red ink).  I then used the two step stamps from the Peony set to create the main flower.  It's created using only one ink (Ruby Red).  TIP:  However for the more solid image, I stamped off once before stamping on Very Vanilla.  I used a Stamp-A-Ma-Jig to position the deeper version on top.  You get a soft shaded effect vs. using two distinct colors.
I next added leaves in River Rock and cut out one to mount on Stampin' Dimensionals.  The gorgeous sentiment is from All Holidays (River Rock ink).  The edges are sponged in Ruby red and mounted on River Rock card stock.  My handy cutter kit distresses the River Rock in no time.
Hugs and Pretty Peonies . . . . Mary
Stamp Set:  All Holidays, Pretty Peony, French Script
Paper:  Ruby Red, River Rock, Very Vanilla
Ink:  Ruby Red, River Rock
Cool Tools:  Cutter Tool (Distressing), Stamp-A-Ma-Jig, Sponges.
The Perfect Touch:  Hodgepodge Hardward (Brads, Pewter), Stampin' Dimensional