I received some exciting news on Friday night!  The peony card I created for my Splitcoast Pal, Cindy (AKA Mothermark), landed in this week's Splitcoast inspiration challenge–finding something in the home to inspire you.  Here are the details on the card I posted previously featuring Cindy's bedroom dresser.  A link to the inspiration challenge is listed below.
I kept things simple today and got back in the groove of stamping as a peaceful therapy (vs. yesterday's somewhat stressful cutting marathon).  I often joke with my stamping friends about the cost of the stamping habit (also lovingly referred to as an addiction). . . but I'm sincere in stating that I absolutely love making the time, playing with my "toys" and allowing myself a little indulgence (OK, "little" is an understatement).
Stampin' Up!'s textured card stock is simply stunning.  I used Blue Bayou textured for the card base.  Shooting for a tone-on-tone effect,  I inked up my Tr?s Chic Background stamp with Blue Bayou and stamped on Blue Bayou card stock (non-textured).  TIP:  For a quick vintage effect, I layered the Tr?s Chic Background image with Sanded Background (again, Blue Bayou ink). 
The horizontal banner is combination of Very Vanilla and Cameo Coral card stock.  The stem image was dipped in Versamark and heat embossed with Gold Embossing Powder.  I added a few gold eyelets with a Crop-A-Dile and to allow a tiny peek at the Cameo Coral below.
For the focal image, I inked the long stemmed rose in Versamark and heat embossed with Gold Embossing Powder.  A Cameo Coral marker completes the petals.  TIP:  Embossed images are a snap to color with Stampin' Up!'s markers . . . you get a natural ridge from the embossing to hold the color (especially for those of us who work with reading glasses and tend to be a little challenged anyway).  I wrapped things up with a little bow of Blue Bayou Double Stitched Ribbon.

The inspiration for today's colors were from an
Asian art calendar–perfect for an Eastern Eclectic set like Embrace Life.   This fits the bill of Splitcoast Stampers Inspiration Challenge IC121, using something inspired from the home.

Hugs and Pretties . . . . Mary
Stamp Sets:  Embrace Life, Sanded Background, Tr?s Chic Background
Paper:  Blue Bayou, Blue Bayou Textured, Very Vanilla, Cameo Coral
Ink:  Blue Bayou, Cameo Coral Marker, Versamark
Cool Tools:  Crop-A-Dile, Heat Tool
The Perfect Touch:  Gold Embossing Powder, Blue Bayou Double Stitched Ribbon, Non-Stampin' Up! Gold Eyelets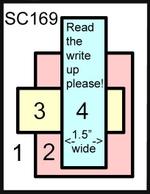 I doubled up this week's Inspiration Challenge with Splitcoast Sketch Challenge 169.  Give it a try.