My daughter, Caroline, is truly sweet, even at 14.  This week's Ways to Use It Challenge (WT155) was to design a project inspired by music.   I decided to make a special card and candy tin for my "Sweet Caroline."  I have a feeling that lying in bed tonight the song will continue to play in my head . . . it's doing it now.  I may have just passed it on to you :)  My apologies.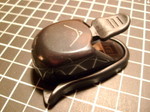 Let's start with a quick tutorial (by request from several regular readers) on using Stampin' Up!'s Corner Rounder Punch to create an easy scalloped border.  It's such a wonderful little multi-tasker.  Grab some scrap paper and be prepared to give this a couple tries before you have it down.  The key is learning where to place each consecutive punch.  TIP: Tutorial photos can be enlarged by clicking on them.

Remove the bottom "brace" of the punch.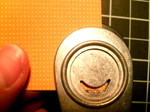 I work from right to left.   TIP: I don't recommend trimming your paper to size until after you are done with the border.  This gives you the option to do a little clean up on either end, if needed.  I also suggest you line up just off the right edge for a more realistic starting point, as shown in this photo.

As you move left, line the punch up next to the previously punched scallop, leaving a tiny (needle size) open space that you can eyeball on the right side of the punch opening.  TIP:  If you are doing scalloped borders on both sides of the paper (as I did in this project), try to line up the first punch on the opposite side with the previous side.  They mirror each other that way.
The card begins with a Whisper White card base, followed by some of the delicious new Summer Picnic Designer Series paper from the Occasions Mini (to be released March 1–I promise to post the catalog as soon as it's available).  Using the Tart & Tangy stamp set (also Occasions Mini), I inked some strawberries in Real Red and stamped on Real Red card stock.
Using my Cuttlebug and the Red Tag Sale Alphabet Die Set, I ran the "sweet"  letters first through on mat board and then again with the Summer Picnic Polka Dot paper.  I then partnered them with glue and attached them to the scalloped piece created in the tutorial above. 

The orange stamp from Tart & Tangy was inked in Pumpkin Pie and stamped on Pumpkin Pie card stock.  Using a 1 1/4" Circle Punch, each orange was punched out and mounted on Stampin' Dimensionals.  A Sakura Clear Gel Pen adds a juicy finish.  I wrapped things up with some marvelous Pumpkin Pie Striped Grosgrain Ribbon (comes in Bashful Blue, Real Red and Wild Wasabi, too).

The sides of the tin were decorated with a continuation of the Summer Picnic paper, easily sized to fit.  The lid includes a "c" (for Caroline 🙂 concocted from mat board, Real Red card stock and the Red Tag Sale Alphabet.  The next layer is another orange punched with the 1 1/4" Circle Punch and jazzed with the Clear Gel Pen.  I attached the orange with dimensionals to a Scalloped Circle and a Marvy Giga Scalloped Square Punch (also separated by dimensionals).  I punched the sides of the scalloped square with a Horitontal Slot Punch to create a slide for threading some Pumpkin Pie Striped Grosgrai to match the card.   
I would love to hear your feedback on this tutorial and project.  Please leave a comment at the end of this post :)  Hugs and Pretties . . . Mary
Stamp Set:  Tart & Tangy (Occasions Mini, 111514)
Paper:  Summer Picnic Designer Series Paper (Occasions Mini, 111355), Pumpkin Pie (105117), Whisper White (100730), Real Red (102482)
Ink:  Pumpkin Pie (105216), Real Red (103133)
Cool Tools:  Corner Rounder Punch (109047), Scalloped Circle Punch (109043), 1 1/4" Circle Punch (104403), Horizontal Slot Punch (105089), Marvy Giga Scalloped Square Punch, Cuttlebug and Cuttlebug Red Tag Sale Die Set Alphabet (Marvy Punches, Cuttlebug and Die Cut Alphabet are available through Create For Less–see link in lower right corner of my blog)
The Perfect Touch:  Pumpkin Pie Striped Grosgrain Ribbon (110715), Stampin' Dimensionals (104430), Non-SU Mat Board, Sakura Clear Gel Pen (available through Create for Less), Clear Top 8 oz. Tin (Papertrey Ink)