Here are a couple quick ideas for jazzing up your Valentine's treats. I used Jelly Beans inside both but also have some Valentine M & M's on hand, which will work equally as well (as long as I stop eating them up).
I started with a Papertrey Ink Clear Top Tin. I then measured and cut the first piece of Stampin' Up!'s Cerise Designer Series paper. I attached the paper to the tin with an ATG adhesive dispenser since it really grabs the tin and keeps the paper wrapped tight. I did the same on the tin top using a different design (but also from the Cerise Series). Only about 2 minutes invested at this point 🙂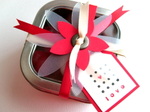 The sentiment was created using my large and small tag punch and a stamp from the Tagger's Dozen stamp set. My markers allowed me to incorporate two different colors applied directly to the stamp, black dots mixed with a red heart and the word "love." I wrapped Real Red Ribbon around the box followed by Very Vanilla Ribbon. The vanilla is "threaded" through an acrylic flower from Papertrey Sheer Blossoms and a Real Red flower created by using Stampin' Up!'s 5 petal Punch, a Jumbo Eyelet and a Crop-a-Dile (to set the eyelet). The entire project (other than a few breaks to eat Jelly Beans) took under 10 minutes.
The little snack bag is a Stampin' Up! cellophane bag with a topper created with a 3rd design from the Cerise Designer Series Paper pack. The Cerise series is retired but any of the Stampin' Up! Designer Series papers will offer a range of coordinated papers to pull this off in a snap. The sentiment is a combination of the All Holidays set ("Hugs and Kisses") and the soon to be released So Many Scallops set (Sale-A-Bration, available Feb. 1). The scalloped flower is stamped with Versamark and embossed with clear embossing powder. The Scalloped Circle Punch snapped out the image and works beautifully with this stamp set. "Hugs" is stamped in Real Red on Very Vanilla card stock and punched with a 1" Circle Punch.
The Horizontal Slot Punch produces an easy slide on the topper for Real Red Ribbon (sandwiched between the sentiment and the flower) and snazzled up with a couple deep pink adhesive rhinestones. Zap! Under 10 minutes again 🙂 It would go even faster if you had to make a number of them and had things ready "assembly line" style.
H & P . . . Mary

Tin:
Stamp Set: Tagger's Dozen (108303)
Paper: Real Red (102482), Very Vanilla (101650), Cerise Designer Series Paper (retired but Berry Bliss (110749) would be even prettier)
Ink: Basic Black (100082) and Real Red (100052) Markers
Cool Tools: Crop-A-Dile (108362), 5 Petal Punch (109041), Tag Punch (105934), Small Tag Punch (108264), 3M's ATG Adhesive Gun
Perfect Touches: Real Red (109034) and Very Vanilla (109026) 1/4" Grosgrain Ribbon, Jumbo Eyelet (Pewter, 108432), Papertrey Sheer Blossom, Papertrey Tin
Treat Bag:
Stamp Sets: All Holidays (109397), So Many Scallops (Sale-A-Bration, 111409)
Paper: Cerise Designer Series Paper (retired but try Ginger Blossoms, 110697 with Ruby Red), Real Red (102482), Very Vanilla (101650)
Ink: Versamark (102283), Real Red (103133)
Cool Tools: Heat Tool (100005), Horizontal Slot Punch (105089), 1" Circle Punch (109046), Scalloped Circle Punch (109043)
Perfect Touches: Stampin' Up! Small Cellophane Bag (103104), Real Red 1/4" Grosgrain Ribbon (109034), Clear Embossing Powder (109130), Non-SU Deep Pink Rhinestones