I love my Stampin' Up! Color Caddy (Item #104335). Frankly, it was one of my early purchases, since having little ink pads stacked all over didn't work with my obsession with organization. It's essential for me to have each ink pad labeled by color. I use the Word Window Punch (#105090) to create perfectly sized labels for each pad. Simple.
I truly enjoy discovering great ideas on SplitCoast Stampers. It's been awhile since I found this one and I have absolutely no idea whom to credit. However, I wanted to share it with you because it's just plain neat (excuse the pun) and adds to the long list of great ways to use the word window punch (one of my favorites for sentiments) and show how nice stamping life is with a Color Caddy.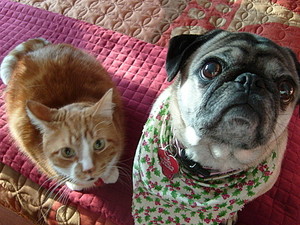 My devoted stamping audience, Mozart (cat) and Isabel (pug).