I received a hilarious Christmas letter this year from my darling 1 year old grand nephew, Henry.  Everything was written from a 1 year old child's perspective, including his visit to Walgreen's where he states, "I run down the aisles and pull things off the shelves–I particularly like the greeting card aisle."  A man after my own heart.  It inspired me to create custom note card sets for both Henry and my equally adorable grand niece, Eleni (also age 1). Monogrammed, of course.  Why not?  I thought their parents would enjoy the humor and convenience of sending off personal notes (thank yous, birthday wishes) directly from their wee ones.

I cut and scored 6 Papertrey White cardstock cards for each note card set and simply added different designer paper selections from either the Dashing (Henry) or Groovy Guava (Eleni) Designer Series Paper collections.  Each paper provides different kick but they blend together nicely. I then added the monograms (bearing the first letters of their first names–I think this is more appropriate for kids than the last name) using letters from the Stampin' Up! Doodle Alphabet (retired).  Any monogram stamps would work just fine.  I then plucked out my Papertrey Squares (Henry) and Circles (Eleni) Borders and Corners sets to layer and amp up the focal point.  To punch the squares, I used a Marvy Uchida Scalloped Square Super Jumbo Punch and for the circles, I used a Marvy Uchida Scalloped Super Jumbo Circle Punch.  All were pumped up on Stampin' Dimensionals and applied atop ribbon (I varied ribbon on Henry's cards and used Chocolate Chip on Eleni's).  Eleni received a few creative border and corner accents for a touch of girly glam. 
The Cuttlebug added wonderful texture to the envelope flaps.  I used the same embossing folder for each set.  I can't believe how well the embossing folders (Spots and Dots-Henry and Bloom Dots-Eleni) coordinated with the Papertrey stamps I used to create the outside panel of the clear card boxes (boxes are also Papertrey).  Green Thumb has a dashing grasshopper (Certainly Celery) for Henry (note: the background is CASE'd from a Nicole Heady Papertrey design, using images from both Green Thumb and Textboxed).  The Little Lady set (stamped in Purely Pomegranate, Chocolate Chip, Groovy Guava Flowers) was a perfect representation of Eleni's mom as the adult "lady" with a 2 tiny "ladies", one for Eleni and one for her "soon to be" brother or sister.
The grasshopper image is attached with dimensionals to celery cardstock, punched out with a Marvy Uchida Mega Scalloped Rectangle Punch.  I used the horizontal slot punch to create a slide for the ribbon.  All ladybug dots shine with the help of a Sakura Gelly Glaze Pen.   Ribbon used on the outside of both clear boxes is from the Ribbon Originals Collection in Sherbet. 
Hugs and Pretties . . . . M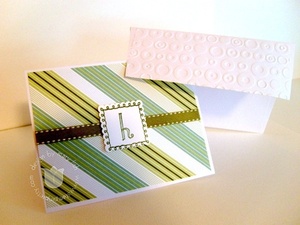 Stamp Sets:  Doodle Alphabet, Papertrey Borders and Corners Squares
Paper:  Papertrey White Cardstock and Envelopes, Dashing Designer Series Paper
Ink:  Always Artichoke, Sage Shadow (watercolored the "h")
Cool Tools:  Marvy Uchida Scalloped Square Super Jumbo Punch, Cuttlebug and Cuttlebug Embossing Folder Spots and Dots, Aqua Painter
Perfect Touches:  Non SU Ribbon, Stampin' Dimensionals

Stamp Sets:  Doodle Alphabet, Papertrey Borders and Corners Circles
Paper:  Papertrey White Cardstock and Envelopes, Groovy Guava Designer Series
Ink:  Chocolate Chip, Groovy Guava (with blender pen in the "e")
Cool Tools:  Cuttlebug and Embossing Folder Bloom Dots, Marvy Uchida Scalloped Super Jumbo Circle Punch
Perfect Touches:  5/8" Grosgain Ribbon in Chocolate Chip, Stampin Dimensionals