A set of vases (die cut or punches) and coordinating stamps (photopolymer, please, please, please) in our product line up would be very popular.  Since my strength is in clean, simple and modern images/design and my brand is a red tulip, I would love to see something in concept to the following.  It's a brainstorm at this point 🙂
Style.  Fun shapes and designs.  Could coordinate with a punch (one or two vases) or die set.  This is stationery by Kate Spade.
Would love modern daisies, swirly roses and tulips (my brand – unless that poses an issue)
I love the two step approach to the set below that has coordinating dies.  You could do patterns with line images as well.  Dies/punch would offer ways to crop and layer pretty DSP.
Simple finished concept ideas.
Love the idea of including a mix of garden pots and/or vases.  I live in Tucson and embrace the idea of cactus and succulents.  However, the current llama set has a saguaro.  Perhaps it will have run it's course and flowers (daisies, etc.) may be more universal for demos and customers.
Love the simplicity of the look below.  Could be two step for the solid interior or colored.  The sentiment "you color my world" is something I think would be perfect for this set!
Perhaps there's an image that could offer pattern and be perfect with our Stampin' Write Markers (or new watercolor pencils) like the ornament below?
More "doodle" concepts for markers.
A pitcher could be a sweet option for stamps/dies/punch.
Very simple and basic vase designs.
A flower pot would be a versatile addition.
This is a simple card I created using ornament dies.  Cropped off the base.  Potential for more versatility as an ornament if there's punch/dies?   I think there is a perfect upsell of buttons, rhinestones/pearls and enamel dots in my overall concept!
Since the delicate thinlits are so popular, this is an interesting concept to add a cropped layer.  I think it's gorgeous.  The flower and surrounding design is more vintage than I see this set going.  However, the vase is pretty neat.
Brian King offered the clever idea below of a punch that could fit the smallest vase and be a coordinated insert for the larger one.
I'm mad about pretty fonts.  This border (as a stamp) is a concept I don't believe we have done.  Could be different shapes (perhaps to coordinate with our note cards and beyond).  Very fun, fresh and easy to add a sentiment in a pretty font (per below) if it's photopolymer.
Here's another border concept:
Small detail but could use the font/sentiments (like the "with love sentiment below) to incorporate hearts, stars, dots from Enamel Dots.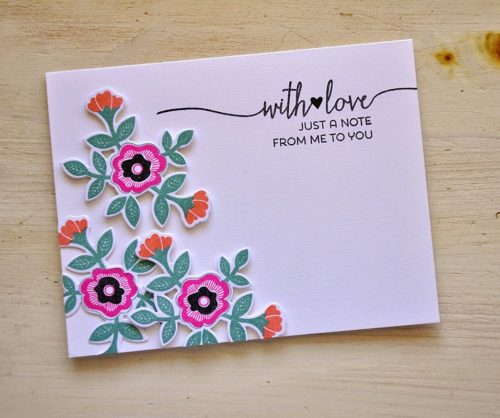 Here are some additional hand scripted fonts (I don't have them all identified but you can see where I'm headed) that are trendy, flirty and cool.  I definitely like them as stand alone sentiments/fonts or with a mix of scripted and print styles.  All sentiments should be cohesive in style (same one or two fonts – if a mix).  I'm not a fan of stamp sets with multiple fonts and sentiments, each going a different style.  Uniformity is a much better seller.
Below.  Potential for adding a star, heart or circle enamel dot (or rhinestone, pearl).